Room 920: Psilocybin Magic Mushroom Chocolate and Jelly Edibles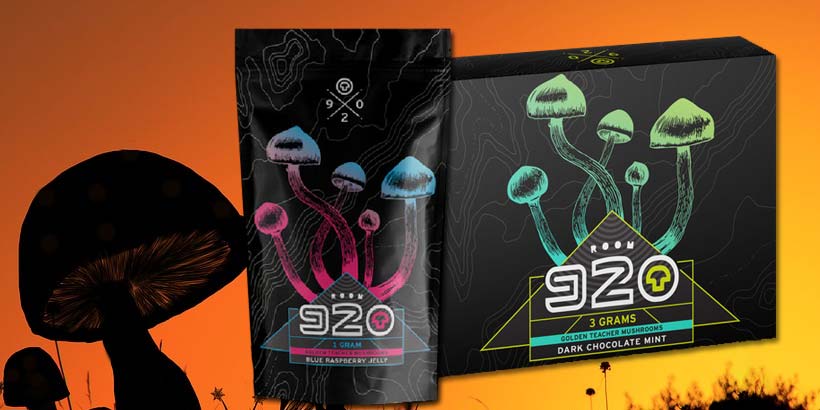 Ever since the use of cannabis was discussed for health, consumers have gradually come to question the drugs industry. Why not right? Humans do carry an endocannabinoid system that is expected to communicate with cannabis plants! On that note, there exists a brand that believes in the power of magic mushrooms, and it is none other than Room 920.
About Room 920
Room 920 claims to make psilocybin magic mushrooms accessible for the betterment of human health. Targeting specifically the Canadian market, each product is supposedly created with product quality in mind, i.e. through highest standards for packaging, hand-tending the mushrooms, and undergoing lab testing for quality control. Before diving into their offerings, let's take a brief look at what magic mushrooms are.
What is psilocybin magic mushrooms?
Magic mushrooms are naturally occurring and contain hallucinogenic effects. The latter is because of the conversion of psilocybin into psilocin within the body and thus resulting in a substance with psychoactive properties. The main reason why consumers might turn to mushrooms is purely for feelings of euphoria. This is because said consumption tends to influence one's awareness, mood, and cognitive health.
What does Room 920 currently offer?
To ensure consumers have options to choose from, Room 920 currently offers
Jellies ($14),
Chocolates ($35)
Dried mushrooms (ranging between $30 and $189).
Jellies come in three flavors:
Grape
Blue Raspberry
Cherry
Chocolates in two:
Two types of mushrooms have been dried:
Each jelly is considered 8 doses, with each dose amounting to 0.125mg. If one feels the dose per piece is too much, the jelly can be further split into 16 pieces, resulting in 0.06mg/piece. The same has been disclosed regarding their chocolate bars, as each bar can be either split into 9 doses (i.e. 0.30mg/dose) or 18 doses (0.15mg/dose). As for the dried mushroom, the best way to consume it could be as a tea or simply smoking it.
What are the suggested doses?
With magic mushrooms, consumers will have to conduct trial and error, as each individual is unique and impacts could vary based on a number of factors (i.e. size, weight, health, the amount taken, the strength of the mushroom, etc.). That said, since it takes anywhere between 30 and 90 minutes to start feeling the impact of mushrooms, it is typically suggested to take small doses at a time and wait to see how it feels prior to taking more.
Final Thoughts
When it comes to the consumption of magic mushrooms, consumers should do so with care, merely because of its psychoactive properties. While it is widely known for its ability to make consumers light and happy, this is probably achieved at smaller doses.
As for Room 920, they've tried their best to carry different mediums to make the experience unique for consumers, which is thoughtful. Additionally, the prices appear to be fair given that one treat can be split to the smallest possible fraction (at least for beginners). In terms of production, Room 920 has made claims of strict procedures, but have yet to provide certificates. If this is of interest, one can simply reach out to them. For more information on what Room 920 has to offer, visit here.